Key Points
Bitcoin's hash difficulty has risen by 6% despite a market dip.
Bitcoin recently fell to 26K levels claiming over $1 billion in liquidations.
BTC price action is causing panic in the markets as traders are experiencing high liquidation ratios. However, Miners are still positive as bitcoin hash difficulty has risen 6% in the past 24 hours.
Market dip inconsequential as Bitcoin hash difficulty increases
Bitcoin price crashed by 10% last week, causing the whole market to move in tandem. As a result, record liquidations were seen in both shorts and longs. As a result, market sentiment has fallen back to fear from the neutral position that it was in before the pullback.
 The Bitcoin hash difficulty rises that happened on August 22 now marks the 6th largest uptick of 2023 per figures from BTC.com. The rising Bitcoin hash difficulty rate shows miners are still not struggling with productivity in their activities, and the coin's security is becoming stronger.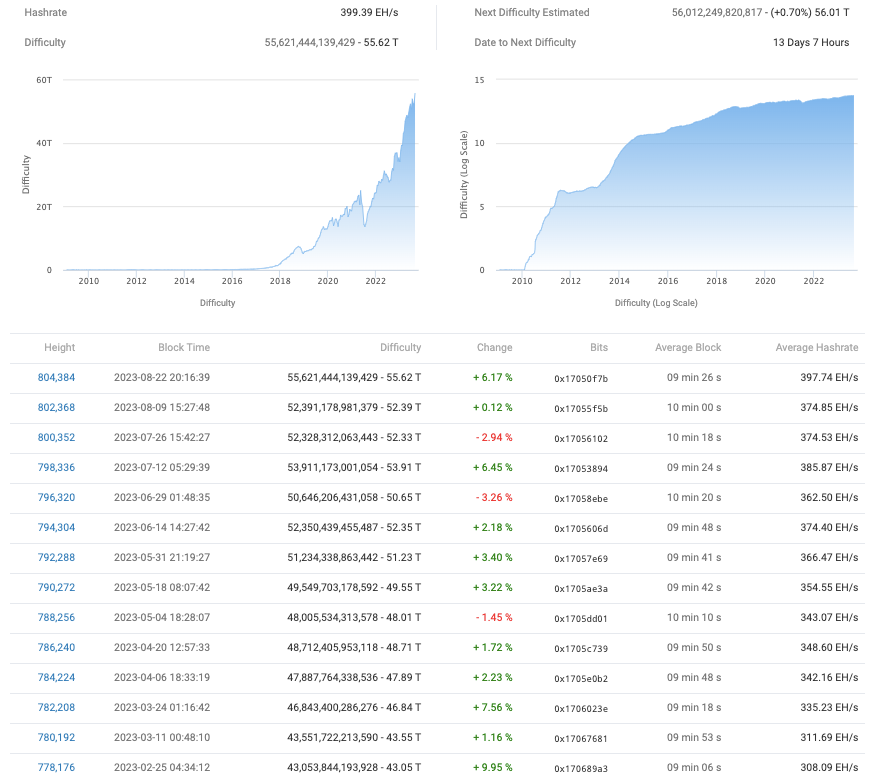 The upcoming readjustment is due to continue the rising Bitcoin hash difficulty taking it to over 56 trillion for the first time. Though it is impossible to calculate with 100% accuracy, the Bitcoin hash rate is already pushing the existing all-time highs of over 400 EH/S (exahashes per second.) 
This rise in bitcoin hashrate is contributed by not only the incoming halving session but also a growth in the number of bitcoin miners. Bitcoin is expected to rise in price in the upcoming years as TradFi institutions flock to adopt it for their customers. As such, they are expected to be the major catalyst for mainstream crypto adoption.
As such, bitcoin mining is still seen as a worthwhile business since the network is also gaining new use cases via inscriptions and other Bitcoin standards. Data from Glassnode shows an increase of 0.08% in the number of BTC held by miners. They have a total of known 1.83M coins.