Key points
The former CEO of the bankrupt crypto lender Celsius Network Limited has been arrested by the US
Alex Mashinsky was arrested pending a probe by the US authorities into how Celsius was operated
Alex Mashinsky is being sued by the US SEC following the collapse of the crypto lender Celsius. Mashinsky served as the CEO of the fallen crypto giant till its last days.
US arrests Alex Mashinsky over collapsed crypto lender Celsius
Alex Mashinsky, the Ex-CEO of the fallen crypto liner Celsius Network Limited, has been sued by the US SEC pending an investigation. The SEC believes that Alex Mashinsky knowingly ignored securities laws when operating Celsius crypto lender, exposing US users to unmitigated risks.
The lawsuit against Mashinsky was communicated on July 13 2023, and was filed with the US federal court in Manhattan. Earlier on, New York Attorney General Letitia James had sued him on claims of him defrauding investors by making false advertisements on the state of Celsius Network Limited, which encouraged the continued flow of money.
Alongside the US SEC, other US regulators such as the Department of Justice (DOJ), Commodity Futures Trading Commission (CFTC), and Federal Trade Commission (FTC) have also filed separate lawsuits against Celsius Network and Alex Mashinsky.
Mashinsky's charges include Securities Fraud, Commodities Fraud, Wire Fraud, and Conspiracy to manipulate the price of CEL (celsius native token. Fraudulent scheme to manipulate the price of CEL, Market Manipulation of CEL tokens, and Wire Fraud in connection with CEL token manipulation.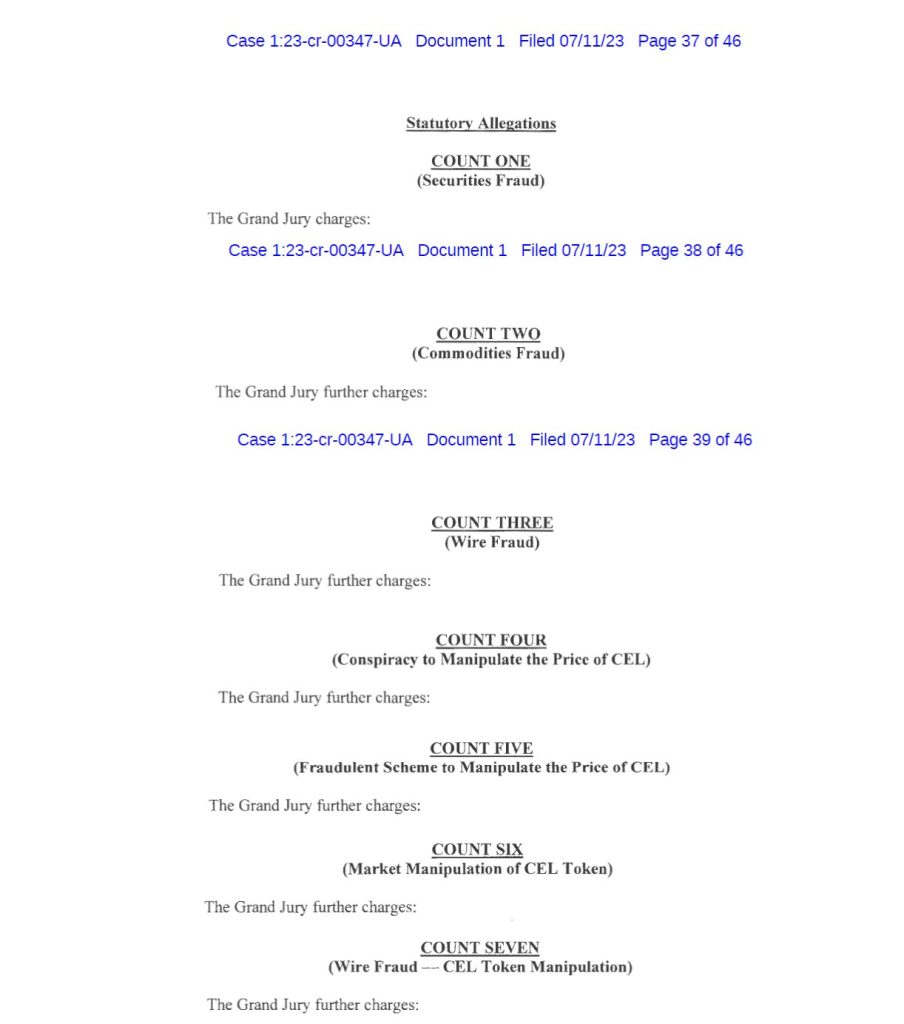 Now, Mashinsky has joined a growing list of 'crypto kingpins' that have been involved in losing millions of dollars to their users and creditors. The US is also pursuing several other crypto executives, including but not limited to FTX's Sam Bankman Fried and Terra's Do Kwon. It is also in a court battle with Binance US and CEO Changeng Zhao, Coinbase, and its CEO Brian Armstrong.
Keep watching Fintech Express for more updates on this story.